When submitting files for your order, please format them as follows.
File Type
Files should be either PDF, AI, INDD or EPS with the fonts outlined. For graphics only (e.g., photographs, watercolors, drawings), these file types are accepted: JPEG, GIF, PNG for graphics only. All text needs to be vector, or else it will not scale and print properly. If you do submit files with embedded rasterized images (JPEGs, GIFs, PNGs), they need to be 300 DPI and at full size (100%).
Color
Art files should be in CMYK (which is optimized for print), not RGB (which is optimized for display screens).
Bleeds
Bleeds (a portion of the image that extends beyond the cut line) are required. These are used to ensure that there are no blank gaps after cutting. Bleeds should be an eighth of an inch (0.125"). For example, a 5×7 file should be submitted at 5.25×7.25. Please keep all important information .125" inside from the cut edge (i.e., not in the bleed or outside the safe zone). The safe zone is where your artwork will not be trimmed off in the cutting process. For a 5×7, your important information should all stay within the 4.75×6.75 area.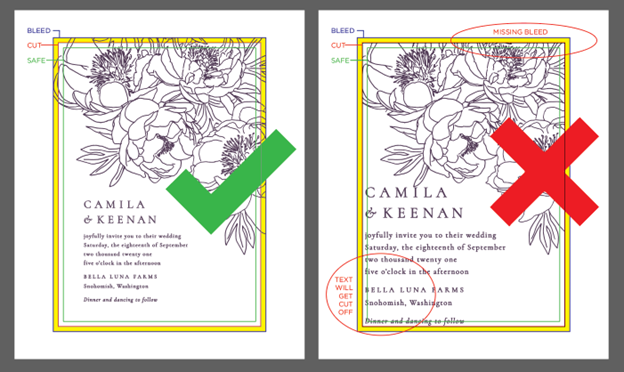 Dies and white ink
Dies are needed for letterpress printing, foiling, embossing and debossing. Art files for dies or for white ink printing need to be submitted as black and white only. The background must be white, and then the text or design that will be on the die or printed in white ink should be represented in black. For die making, all art should be in a vector format (e.g., svg, ai, pdf). Rasterized images (e.g., png or jpeg) will not work for die making.
Color Matching
We do our best to match colors, but we do not guarantee color matching to paper. Also, please be aware that what you see on your screen or monitor will not be an accurate color representation of the final printed items. Every phone or computer screen has a different color profile and will therefore render colors differently. You can order paper swatch samples to see our paper colors to get a better idea of the actual color, but please note that there still may be slight variations in the color of the paper itself across different production lots.
Guest Addressing
If you are submitting a file for guest addressing, we will need one file for the layout, fonts should NOT be outlined, and the fonts and any images should be embedded or submitted with the order. We do not necessarily have the font you used, and we will not be able to replicate the font you want. Adobe programs will allow you to "package" the file into a zip that includes all of the required elements for print.
Best Practices
Do not include any crop marks, registration marks, etc. We do not need these, and they are often a hinderance, not a help.
Lines should not be less than .25 points thick.
Fonts should be no smaller than 5 pts.
If you need to send more than one file, name them clearly, then zip them together for a single file upload.
Still have questions, you can contact us at

[email protected]